stickers Support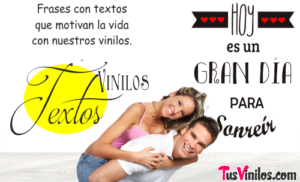 Would you like to give your home an individual touch and surround yourself with inspiring texts??
Then you are in the perfect vinyl store for you. We have an interesting range of impressive text stickers for you and we turn them into fantastic wall stickers. And not only that, here you will also find quotes from famous people who love clever words as much as you do.
great sayings, vinyl quotes and texts for wall, for the whole family and stays. Discover the great selection of vinyls and let yourself be inspired with words and thoughts every day.